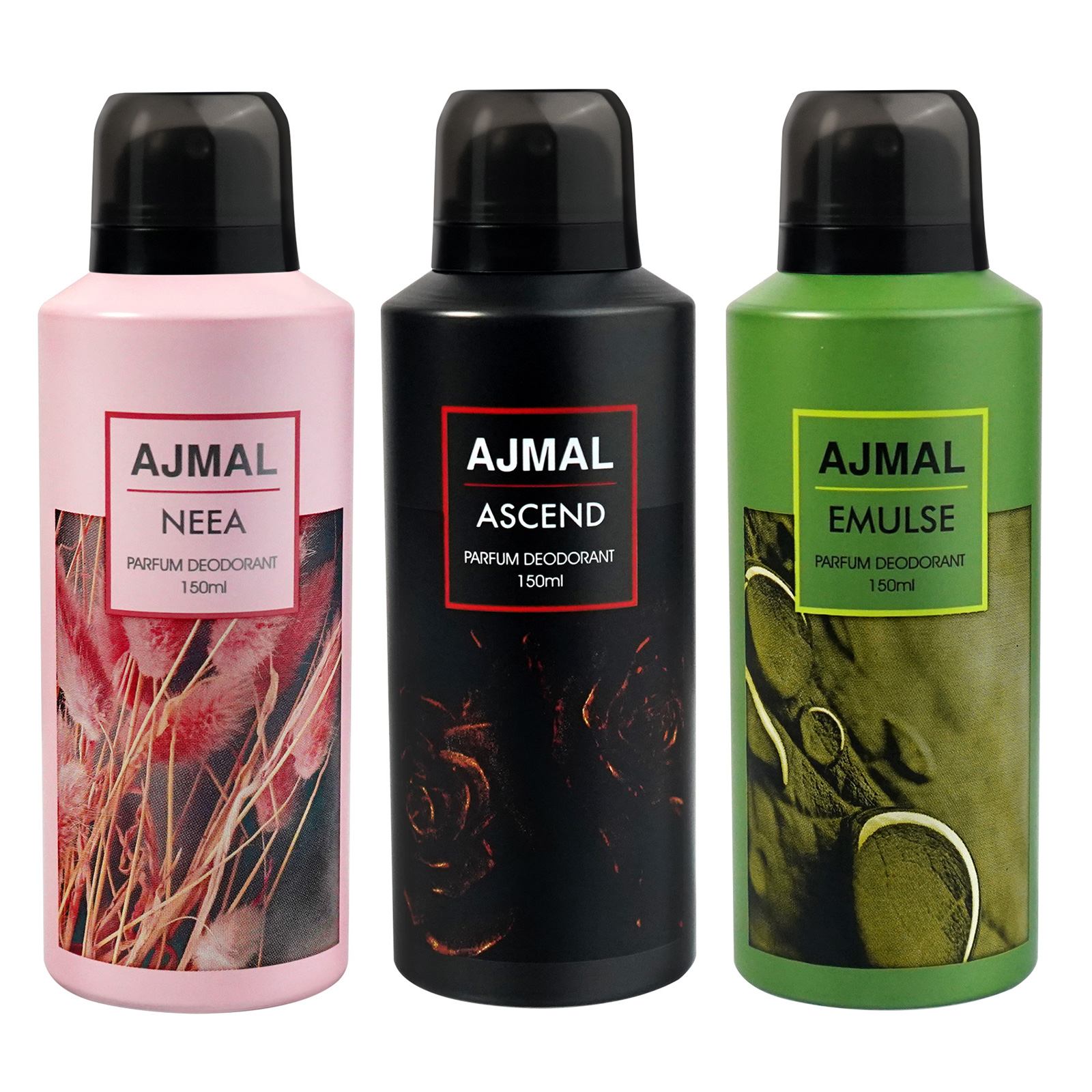 Ajmal
Ajmal Neea, Ascend and Emulse Deodorant Perfume 150ML Each Long Lasting Spray Party Wear Gift For Men and Women Online Exclusive
MRP:
Price inclusive of all taxes
Specifications
Ingredients :
NEEA_DEODORANT_150ML: Citrus, lemon peel, green,Floral- rose petal, violet flower, Cedar wood,White musk, PowderyASCEND_DEODORANT_150ML: Fruity-APPLE, Citrus-GRAPEFRUIT, MARINE NOTE,Floral- ORCHID, ROSE,FREESIA VIOLET LEAVES,WOODY, VANILLA,WHITE MUSKEMULSE_DEODORANT_150ML: Lemon, Bergamot, Rosemary, Rose, Jasmine, Ginger, Carnation, Vetiver, Patchouli, Musk, Woody,
Seller Information
Country Of Origin :
India
Marketer Name :
M/s Ajmal & Sons
Marketer Address :
99CD, Mohammed Ali Road, Mumbai - 400003, Maharashtra.
Product Identifiers
Item Code :
Nee_Asc_Emu_Deo150ml
Return Policy
View Details
Product Description
NEEA_DEODORANT_150ML Though floral, it is not overwhelming so. Gentle and graceful in its composition, Neea whispers in flowers. It's not an opulent bouquet of flowers displayed at the centre-table. It's the subtle blooming of flowers next to a pebbled stream. The fragrance opens with citrusy and watery notes bringing out the florally of violets, roses and lily of the valley. Cedarwood and white musk in the base notes give stability and character to the delicate heart notes, making it long lasting. ASCEND_DEODORANT_150ML Wear Ascend for evenings out or intimate gatherings when your intention is to make your presence felt It's a modern take on a classic with freshness of marine and grapefruit lightening up the deep olfactory profile of vanilla, amber and patchouli. Freesia flowers and violet leaves subdues the vibrancy of rose blooms giving the heart a unique floral character which refuses to be boxed in labels of masculinity or femininity. Designed to appeal to noses of fun-loving, high-spirited individuals, Ascend is the evening fragrance you can't go wrong with. EMULSE_DEODORANT_150ML Sophisticated and Versatile in its composition. Emulse is for the men and women who stand out and aren't afraid to command any room that they enter. The fragrance opens with lemon and fresh notes of Bergamot bringing out the beautiful decadence of Rosemary, Rose and Jasmine. Ginger and Carnation add an earthy character to the middle notes, making it a unique and energizing olfactory experience. Vetiver and Patchouli in the base notes gives strength and stability with the musk and woody notes make the combination long lasting and memorable.