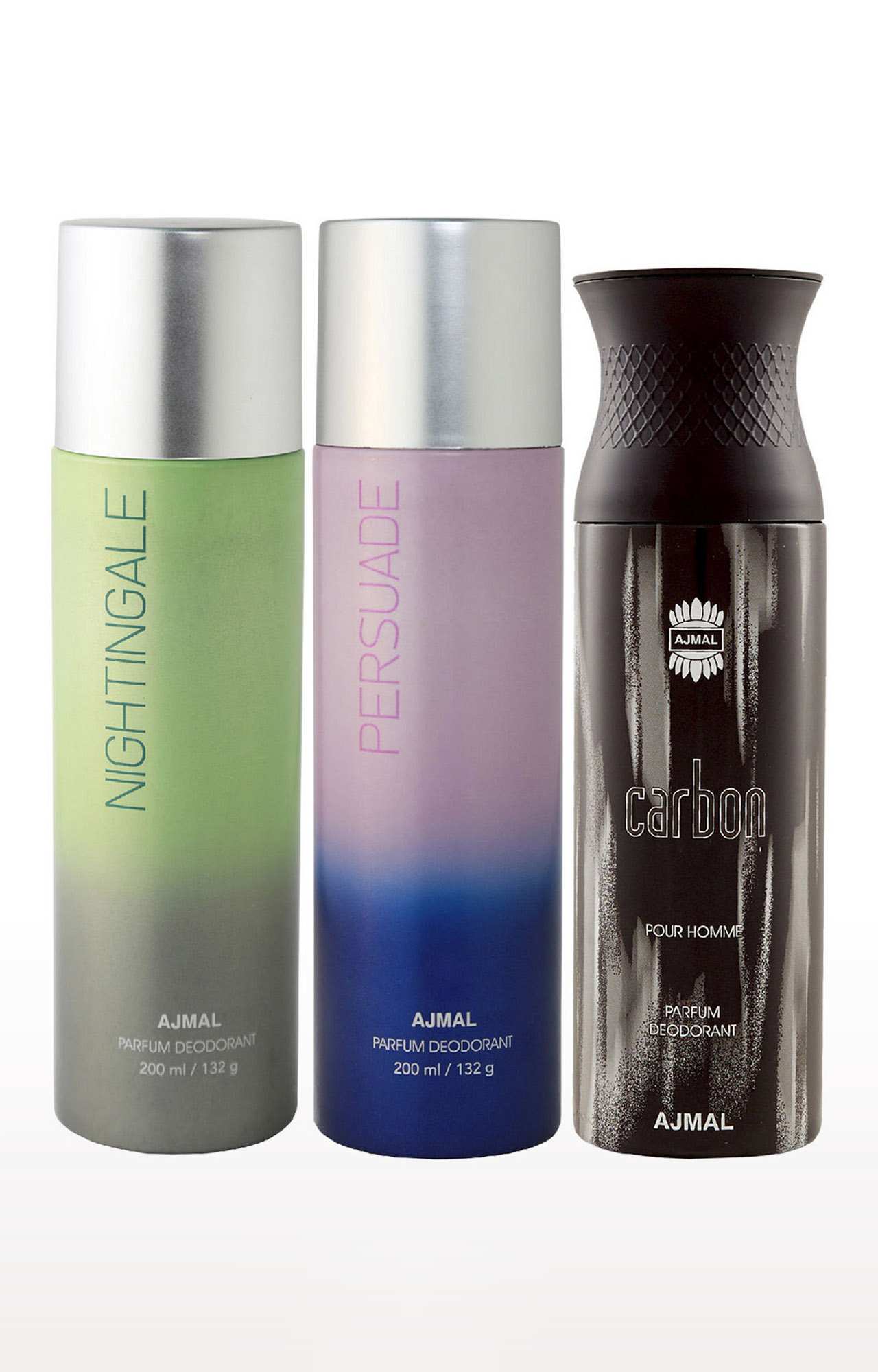 Ajmal
Ajmal Nightingale and Persuade for Men & Women and Carbon for Men High Quality Deodorants each 200ML Combo pack of 3 (Total 600ML)
MRP:
Price inclusive of all taxes
Product Details
Name of the commodity :
Deodorants
Return Policy
View Details
Product Description
Nightingale - A classic deodorant, that perfectly suits your need of refreshment with hints floral and fresh aroma. The contemporary fragrance has a great fondness for the people travel, and outdoors. It carries the rich and multi-layered essences of splendid exotic ingredients with its irresistible fragrance. Persuade - A fragrance crafted to enhance the charisma of the wearer and the boost the confidence. The fragrance performance extremely well-starting with the fresh fruity top note which brings the sense of the wearer to active. The mesmerizing and alluring fragrance of this product will complete your attire and spread the positive vibes. This is one of the best fragrances which have been blended finely with exotic ingredients. Magnetize - The fragrance of the deodorant creates a hypnotic impression with its combination of spicy, aromatic and woody aroma. The intense fresh accords of the fragrance enriched with earthy spices evokes an enviable, yet effortless appeal. A contemporary and energizing fragrance that is a perfect choice for casual hang-out with friends, social occasions or for office hours. Carbon Homme - A fragrance of this deodorant crafted for men's who are adventurous and like to live by his own rules to seize the life in every moment. It adds the charm to any men's persona with its soothing and masculine fragrance.