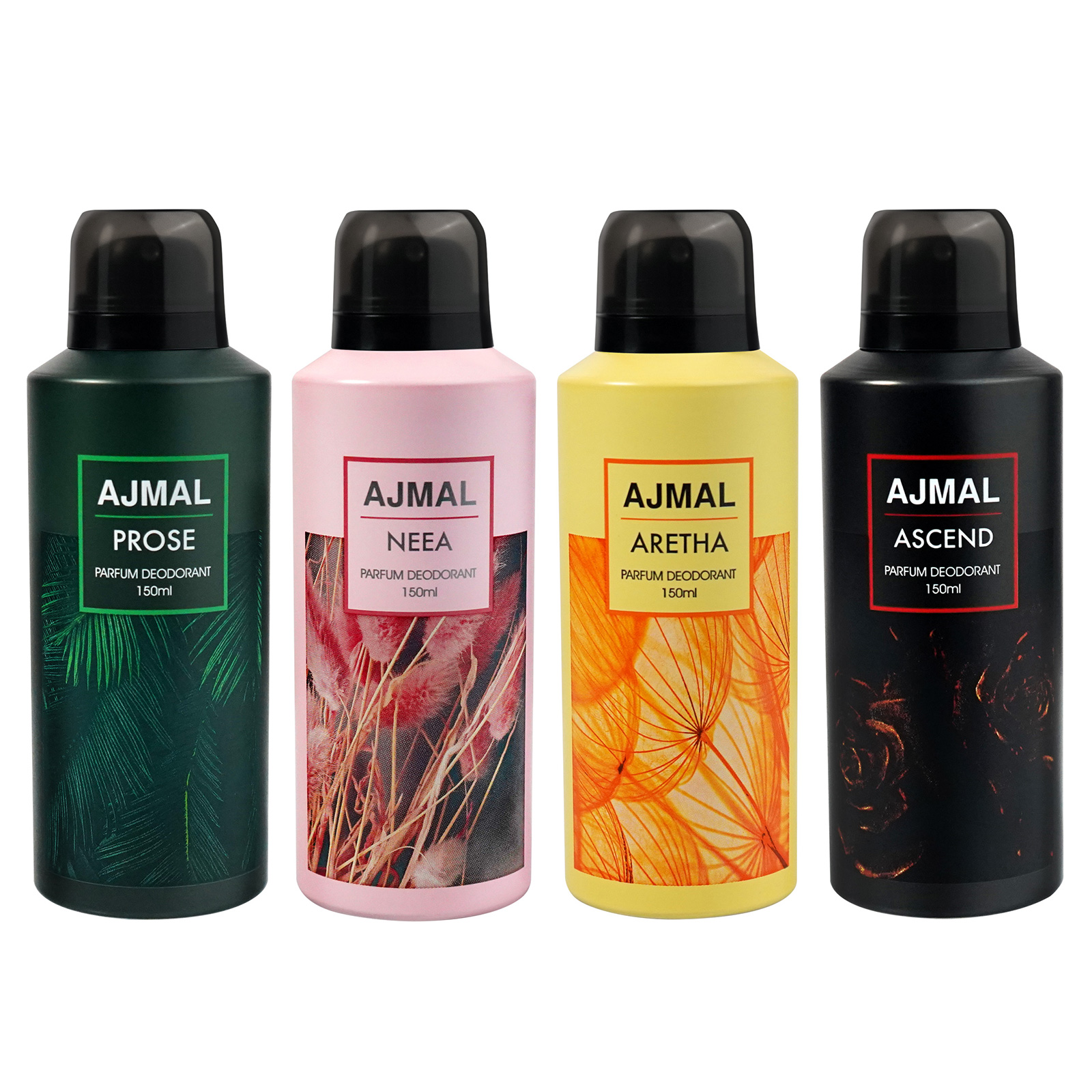 Ajmal
Ajmal Prose, Neea, Aretha and Ascend Deodorant Perfume 150ML Each Long Lasting Spray Party Wear Gift For Men and Women Online Exclusive
MRP:
Price inclusive of all taxes
Specifications
Ingredients :
PROSE_DEODORANT_150ML: Fresh, Citrus,Aromatic, Lavender,Woody , Patchouli NEEA_DEODORANT_150ML: Citrus, lemon peel, green,Floral- rose petal, violet flower, Cedar wood,White musk, PowderyARETHA_DEODORANT_150ML: Peach, Bergamot, Pear,Rose, Lily , Jasmin,Musk, Cedar wood, VertiverASCEND_DEODORANT_150ML: Fruity-APPLE, Citrus-GRAPEFRUIT, MARINE NOTE,Floral- ORCHID, ROSE,FREESIA VIOLET LEAVES,WOODY, VANILLA,WHITE MUSK
Seller Information
Country Of Origin :
India
Marketer Name :
M/s Ajmal & Sons
Marketer Address :
99CD, Mohammed Ali Road, Mumbai - 400003, Maharashtra.
Product Identifiers
Item Code :
Pro_Nee_Are_Asc_Deo150ml
Return Policy
View Details
Product Description
PROSE_DEODORANT_150ML : Wear Prose when you are ready to hold attention and are dressed to impress. With a scent that's both woody and refresh, Prose spells character and sophistication. It opens with sparkling sweet freshness of lemon, mandarin and spearmint leading to an aromatic heart of lavender and anise. Leather in the base notes is the leading ingredient of this composition which gives it stability and grace without compromising on its freshness. NEEA_DEODORANT_150ML: Though floral, it is not overwhelming so. Gentle and graceful in its composition, Neea whispers in flowers. It's not an opulent bouquet of flowers displayed at the centre-table. It's the subtle blooming of flowers next to a pebbled stream. The fragrance opens with citrusy and watery notes bringing out the florally of violets, roses and lily of the valley. Cedarwood and white musk in the base notes give stability and character to the delicate heart notes, making it long lasting. ARETHA_DEODORANT_150ML: Wear Aretha when you want to get into the flow of the moment, without creating a storm. Perfect day fragrance! The presence of juicy peach and crispy pear in the top notes lends a weightless freshness to this fruity floral composition. At the heart lies the sweet opulence of honeysuckles, white and yellow flowers that bloom on hardy bushes mingles with softness of Bulgarian roses to great a magical alchemy ASCEND_DEODORANT_150ML: Wear Ascend for evenings out or intimate gatherings when your intention is to make your presence felt It's a modern take on a classic with freshness of marine and grapefruit lightening up the deep olfactory profile of vanilla, amber and patchouli. Freesia flowers and violet leaves subdues the vibrancy of rose blooms giving the heart a unique floral character which refuses to be boxed in labels of masculinity or femininity.