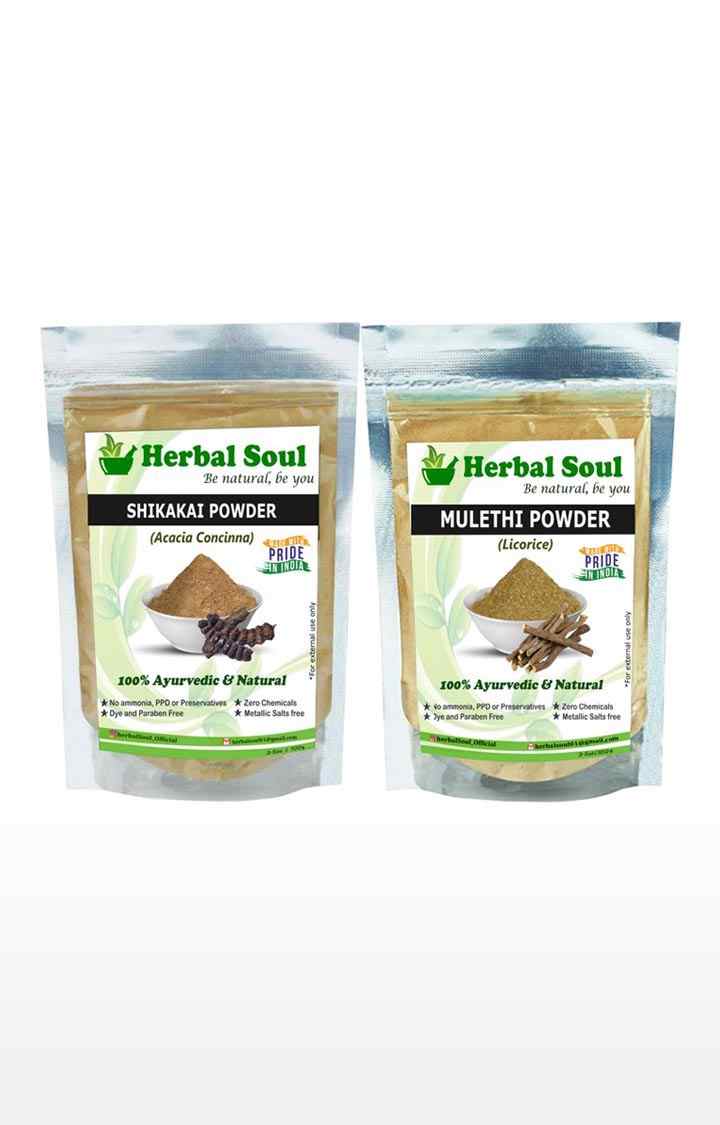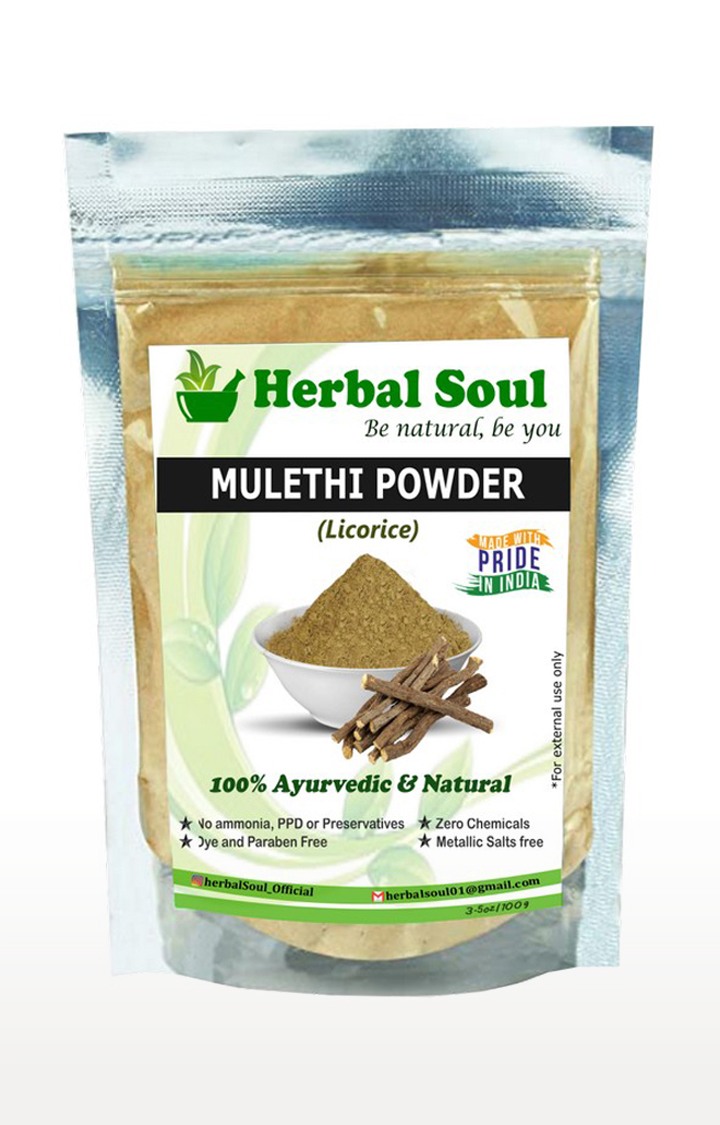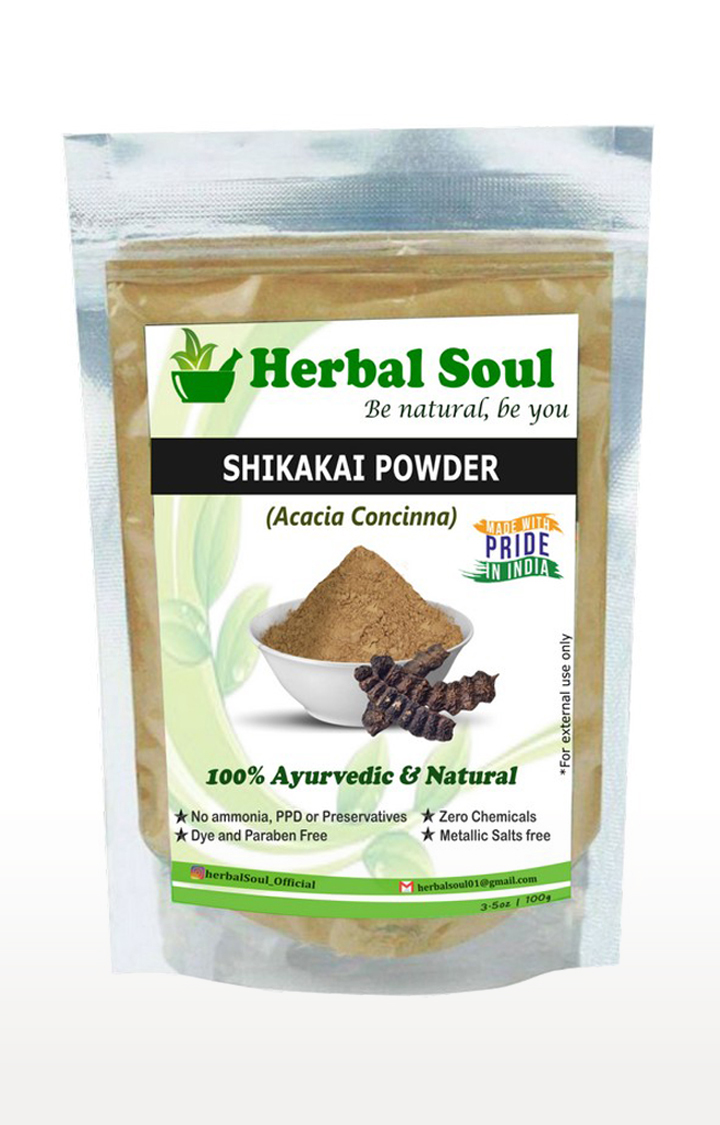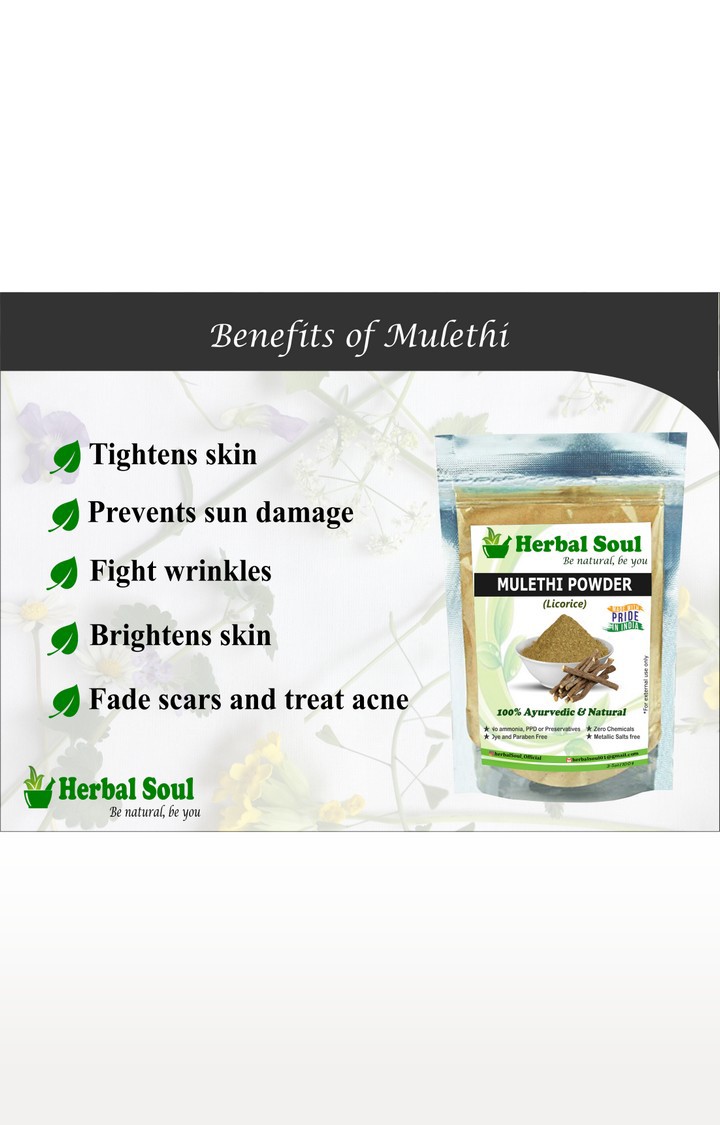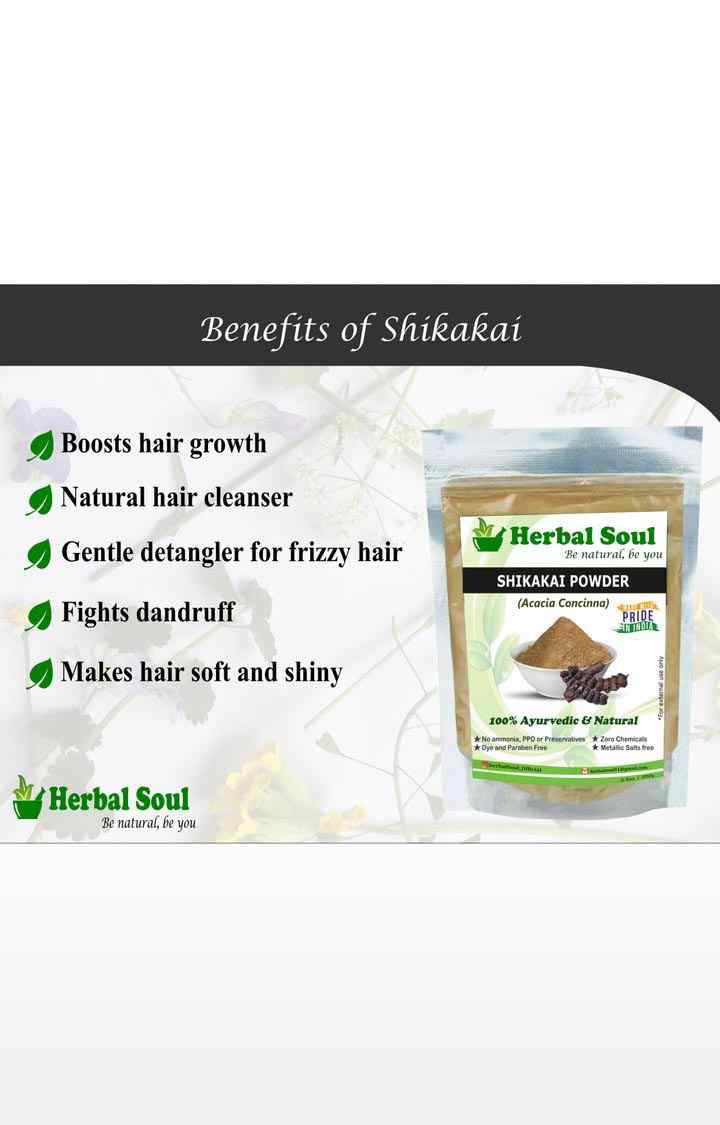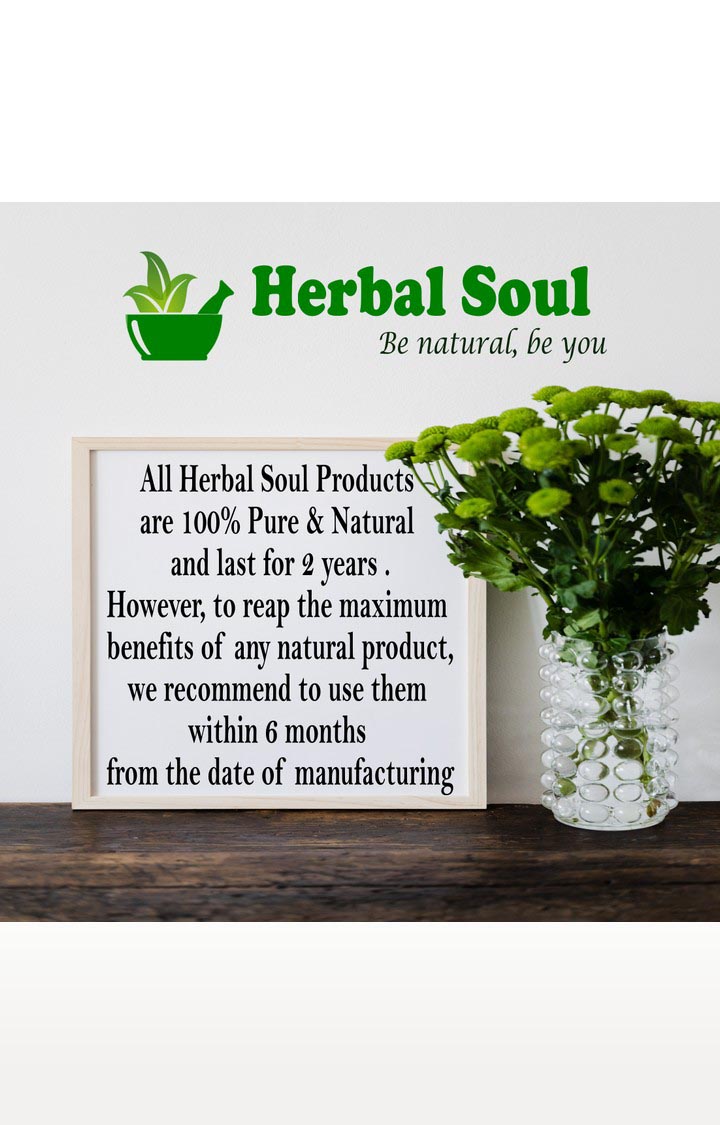 Herbal Soul
Herbal Soul Combo Of Mulethi Powder + Shikakai Powder | 200 gm
MRP:
Price inclusive of all taxes
Specifications
Hair Type :
All hair type
Benefits :
This Product is Suitable - for Hair Fall , for Making Hair Strong, for Dandruff Flakes, for Split Ends, for Hair Dyeing, for Dry Brittle Hair, for Sticky Oily Hair, for Hair'S Shine, for Thick Growing Hair, for Soft & Silky Hair
Skin Type :
All skin types
Complexion :
All types of complexion
Ingredients :
Mulethi Powder, Shikakai Powder
Active Ingredients :
Mulethi Powder, Shikakai Powder
Seller Information
Country Of Origin :
India
Marketer Name :
Herbal Soul
Product Identifiers
Item Code :
BC-HS-02-200-061
Return Policy
View Details
Product Description
MULETHI HELPS REDUCE DARK SPOTS : Licorice has amazing properties that helps reduce the skin cells damage. Mulethi powder also helps to reduce dark spots and pimple marks which results in glowing skin. Yastimadhu Powder or Mulethi powder when used as a face pack can help in improve skin hydration, reduce skin tan and make the skin appear plumper and brighter. MULETHI LIGHTEN SUN TAN : Skin gets tanned due to exposure to harmful UV rays emitted by Sun. This tan causes darkened skin tone, redness and itchy skin. Licorice powder is packed with rich minerals that can help reduce tan easily.Mulethi powder helps to repair skin tanning. MULETHI HELPS REDUCE DANDRUFF : Mulethi is great ingredient for reducing dandruff and cleaning scalp naturally. Mulethi powder helps reduce itching and gives you clean strands. Mulethi powder for skin fairness, but also licorice powder for skin caters to a number of skin care issues like, it helps to do away with scars, blemishes and marks while also providing for required protection against skin damaging radicals including that of UV rays. Mulethi powder for face beauty is known to bring in an enhancement by adding that natural youth boost to the face. Mulethi powder is key herb for acne SKIN WHITENING & LIGHTENING : Yastimadhu (Licorice/Mulethi) has a natural and an attractive brightening property which slowly and gradually fades away the dark spots, hyper-pigmentation, dark circles under the eye, sunburns, tanning of the skin, skin blemishes and other skin issues. Liquorice is known to lighten and brighten the skin. Add liquorice to your face pack and see the difference. Moreover, mulethi powder has properties as well that make the skin clear and protects against harmful sun rays and pollution. Mulethi Powder For Skin Helps Remove Impurities From Skin. Mulethi Powder For Hair Helps In Reducing The Excess Oil Secretions from the Scalp. Herbal Soul Mulethi Powder is obtained from the drying and processing of the licorice root. The triple-sifted, micro-fine Herbal Soul Mulethi powder is extremely beneficial for combating skin and hair problems. Rich in antioxidants, ithelps block free radicals, protects the skin from darkening, controls excess oil production which may lead to acne and pimples, ultimately leaving the skin smooth and glowing. It has amazing properties which helpslighten sun tan, minimize blemishes and marks and fight skin damage, dark spots, dark circles and acne breakouts. Pamper your skin with regular application of organic Herbal Soul Mulethi powder tomake even your dry skin soft and supple and achieve a radiant, younger looking skin, along with giving a refreshed feel all day long. Apart from curing the skin, the invaluable herb helps reduce dandruff,removes all traces of dirt and excess oil accumulated on scalp and makes hair shiny. Homemade DIY masks of Mulethi powder are prepared with other natural ingredients to strengthen hair strands, lock the moisture in hair, hydrate and condition the scalp. This fine powder can be blended very easily with other herbs & oils Herbal Soul Shikakai powder is 100 % pure ,chemical free and natural. Shikakai is known as a fruit for hair which is being used as a natural ingredient for centuries. Shikakai powder is used as natural cleanser traditionally , Herbal Soul Shikakai powder is 100 % chemical free and natural. It helps to fight dirt on scalp and hairs leaving hairs shiny and soft. Known as a great source of essential vitamins. Shikakai powder vitamin c content, especially, helps promote hair growth by giving your scalp a collagen boost. Shikakai powder is also a great source of antioxidants that help prevent free-radical damage. Shikakai is extensively used as an ingredient in processing shampoos and ayurvedic scalp medicines. Shikakai powder clears off dandruff and dirt that accumulates in the scalp. apart from that, Shikakai also strengthen the hair roots and make hair soft, silky & glossy. Organic shikakai powder contains saponin which generates lather with water. Shikakai has been used in India from ages as a natural hair wash and conditioner. Shikakai imparts shine and body to hair, and has a balancing effect on irritated scalp and dandruff. Shikakai Powder is purely organic triple sifted microfine powder that addresses the issues of the hair and scalp with its nutritional properties. Shikakai powder for hair growth retains the natural oils of the hair, control dandruff and strengthens hair roots, keeping it lustrous and healthy. Shikakai powder is a great hair cleanser and conditioner. In fact, Shikakai powder has proved efficient for conditioning hair and imparts intense shine to it. Shikakai powder works as natural shikakai cleanser for scalp, maintains the natural colour presenting soft shiny bouncy hair. Shikakai (Acacia concinna) makes your hair softer and is known to add shine to it. Shikakai powder is infused with goodness of Shikakai which makes your hair more manageable. Application of Shikakai is a natural treatment for detangling the hair.