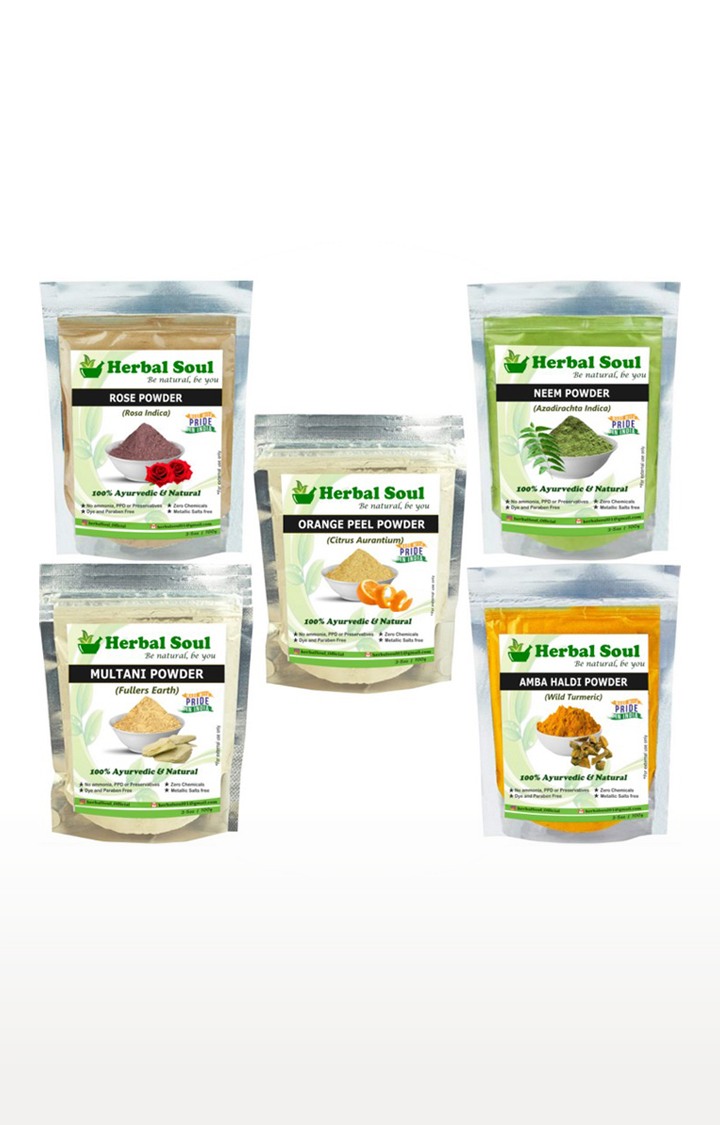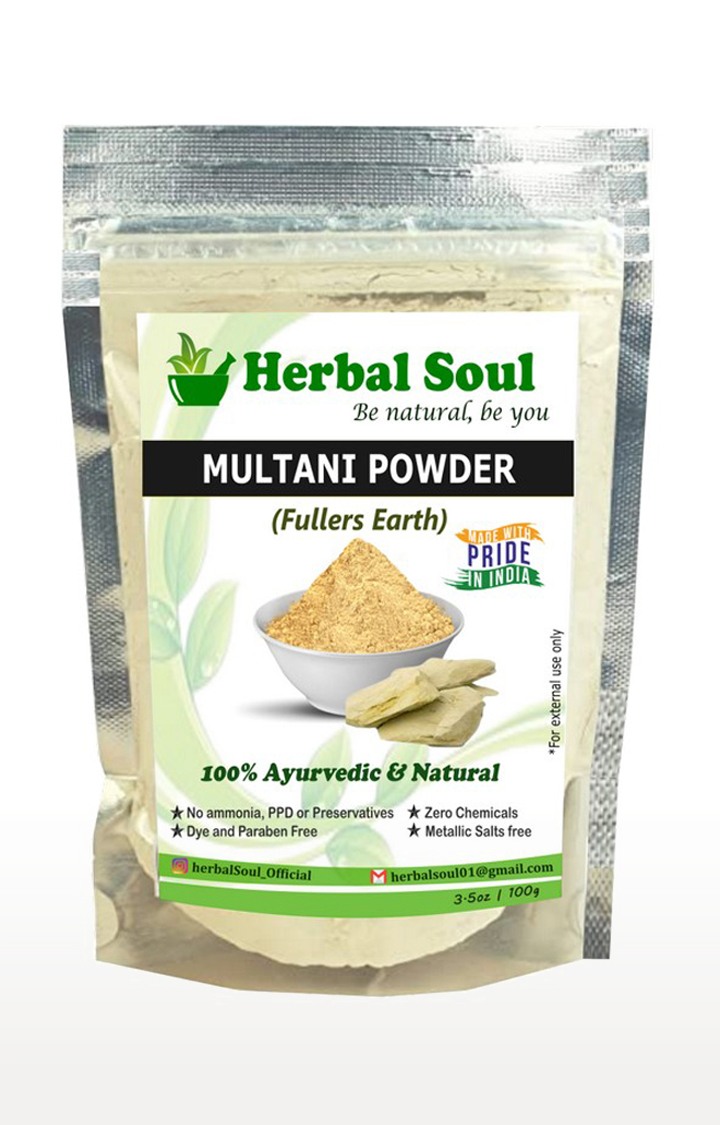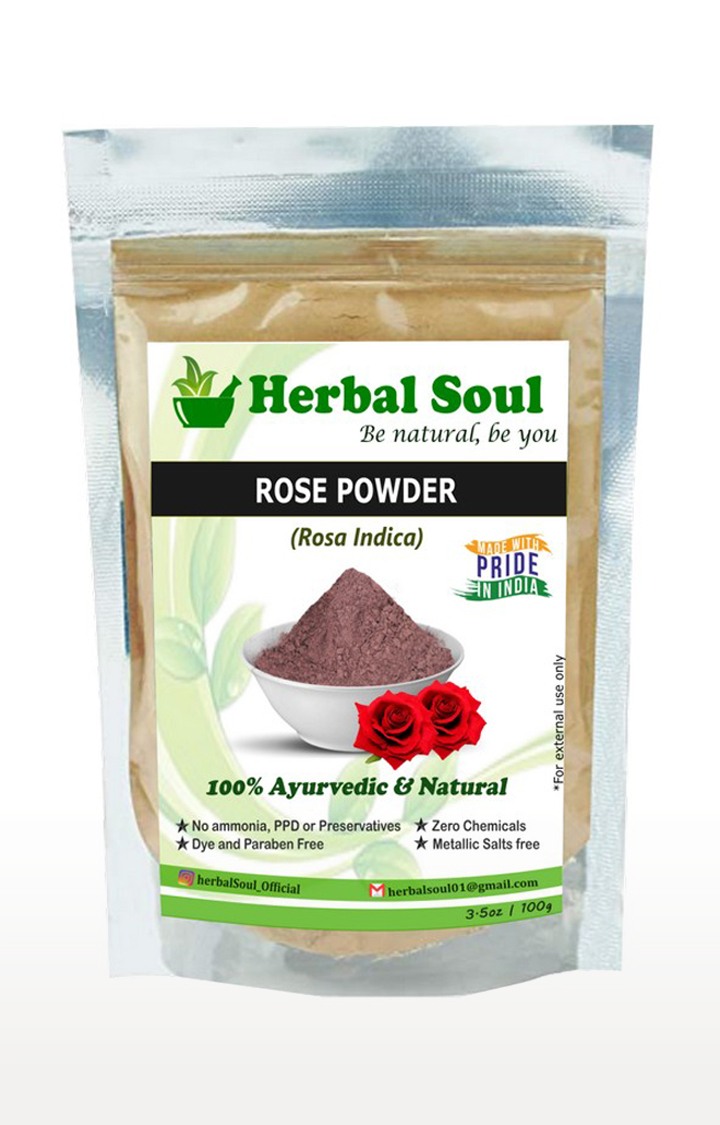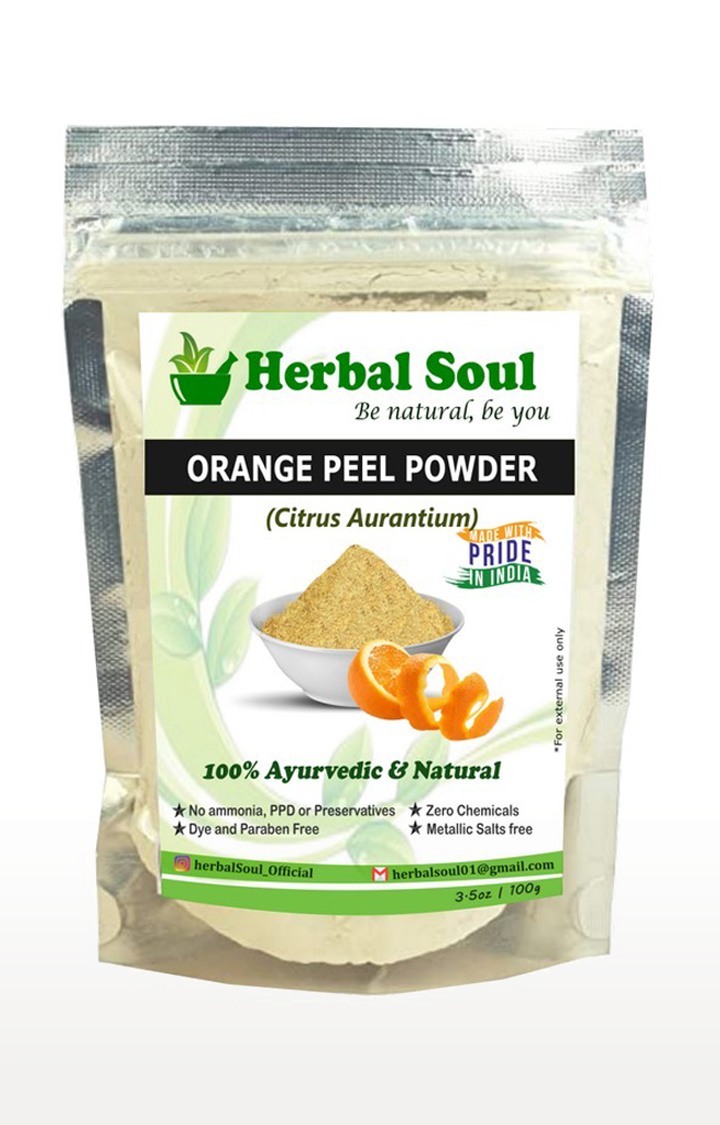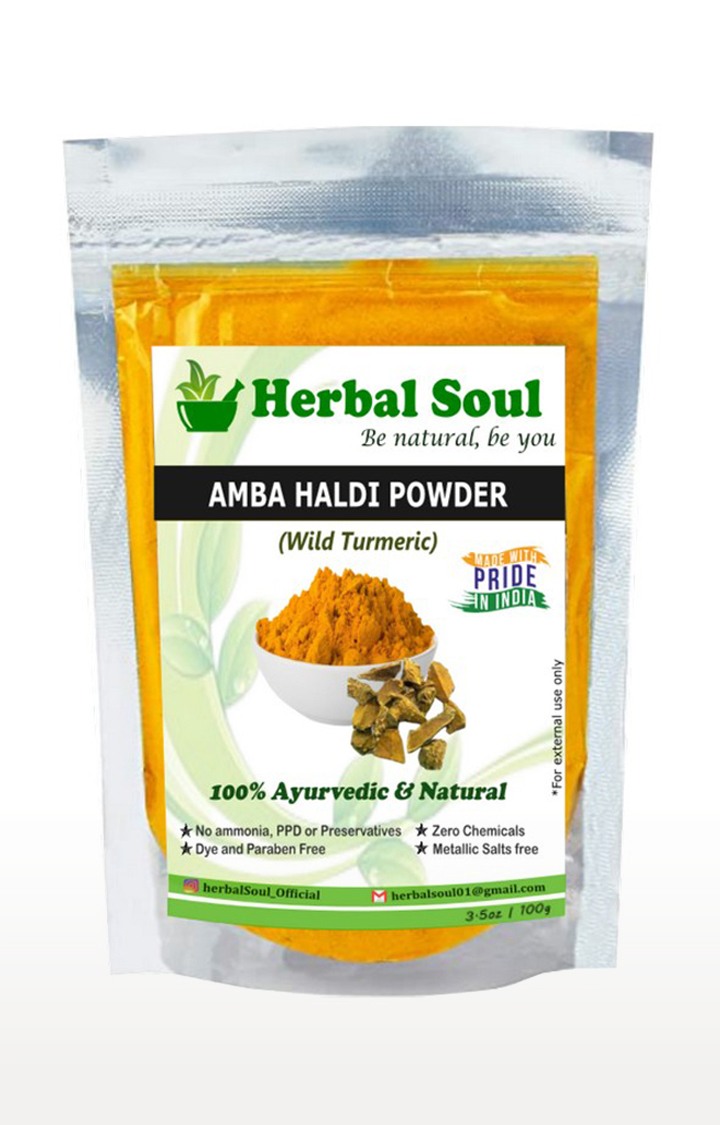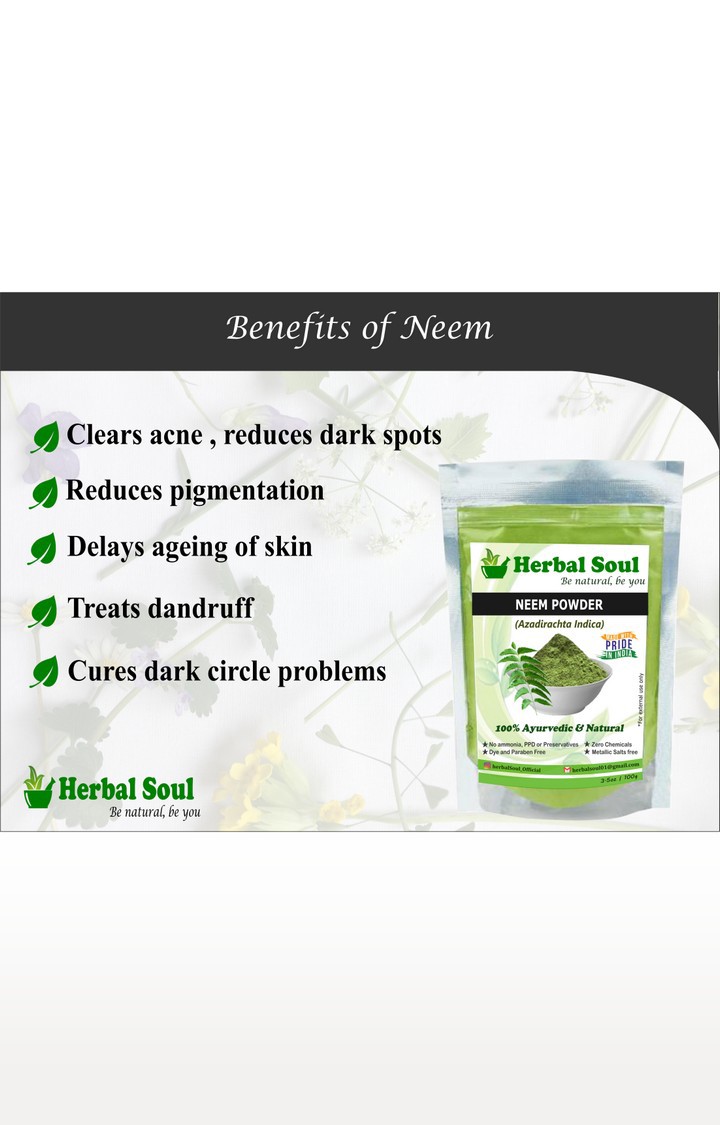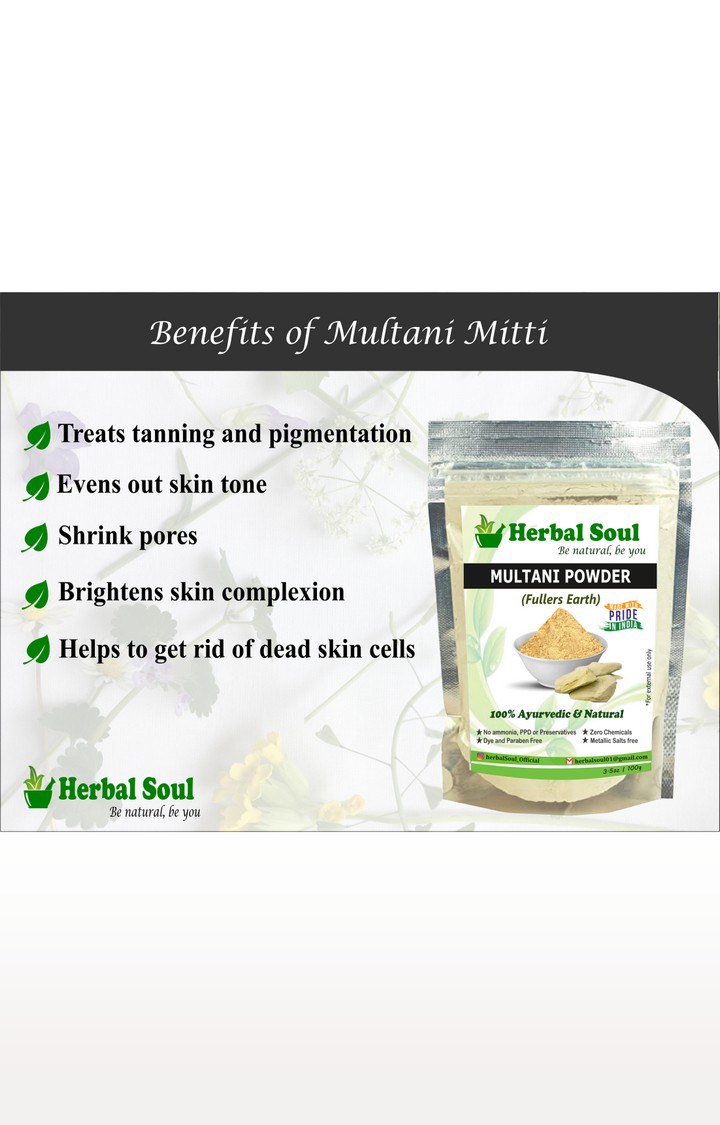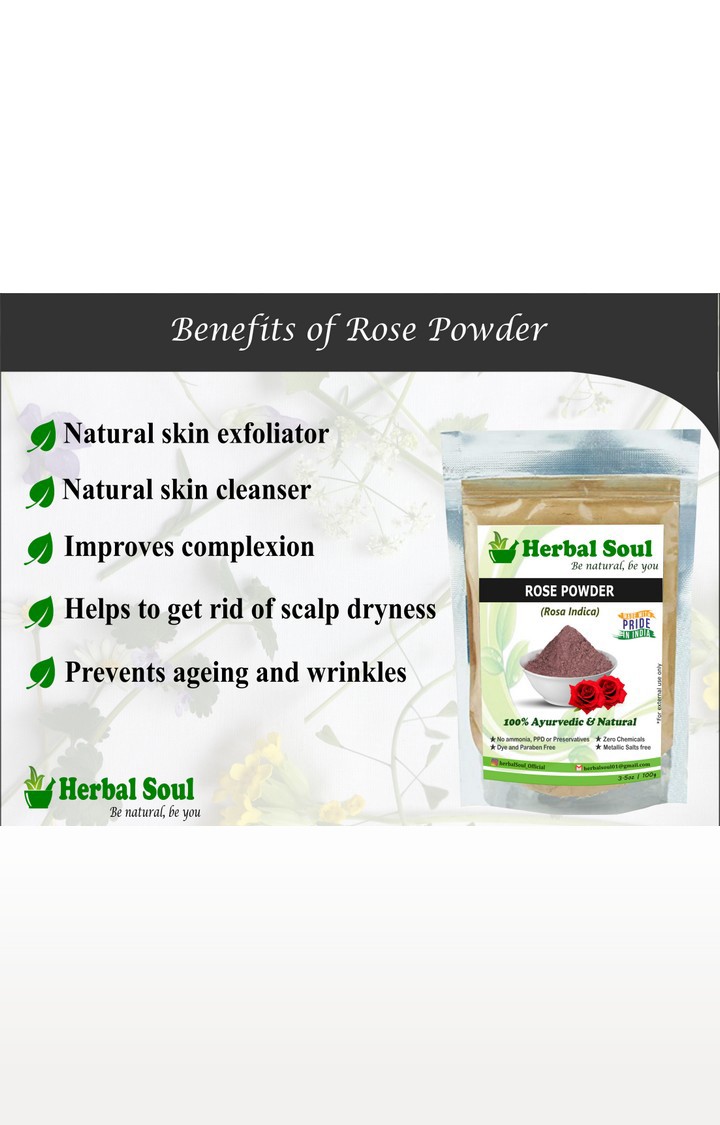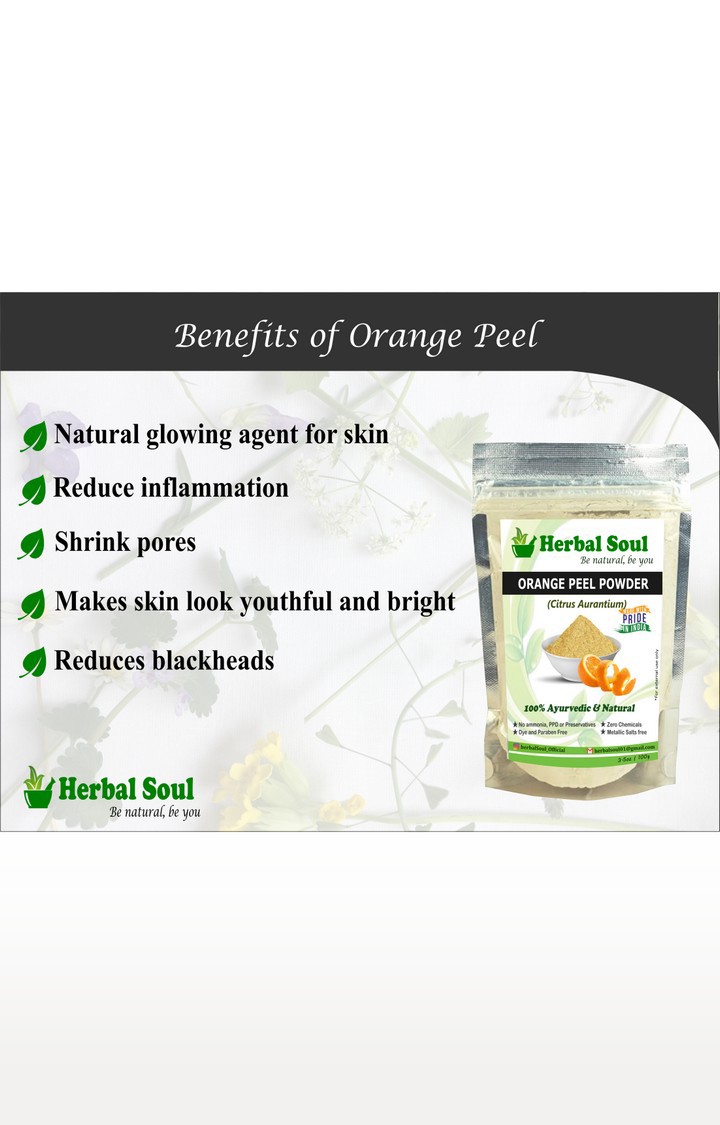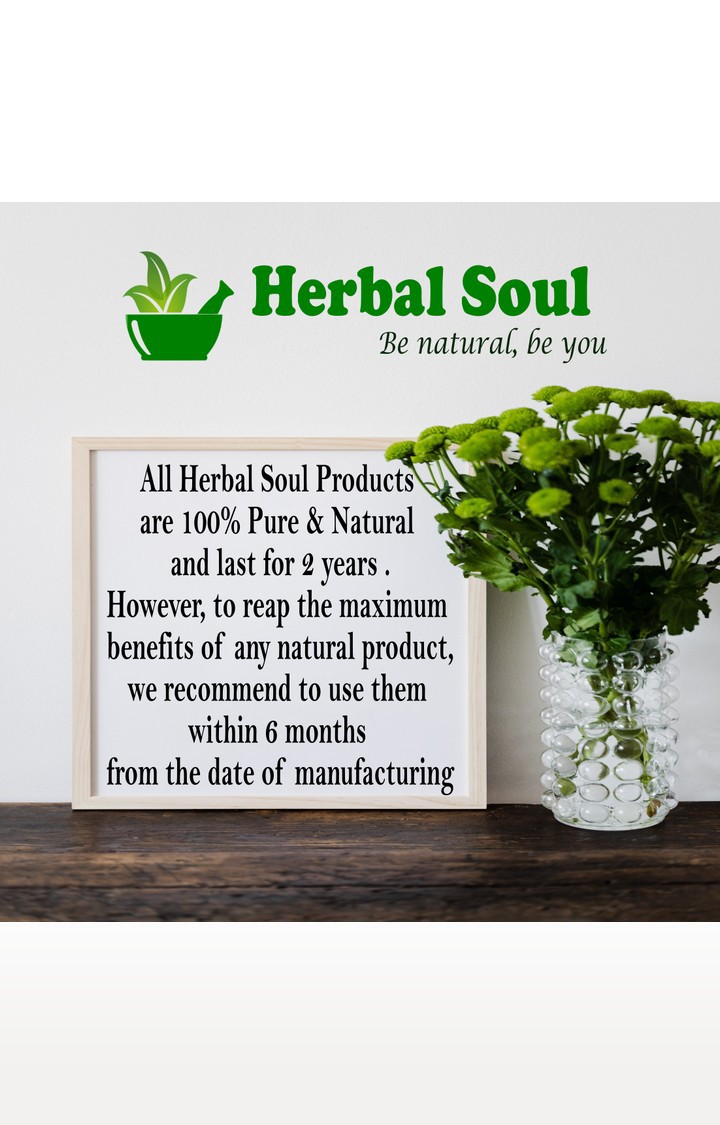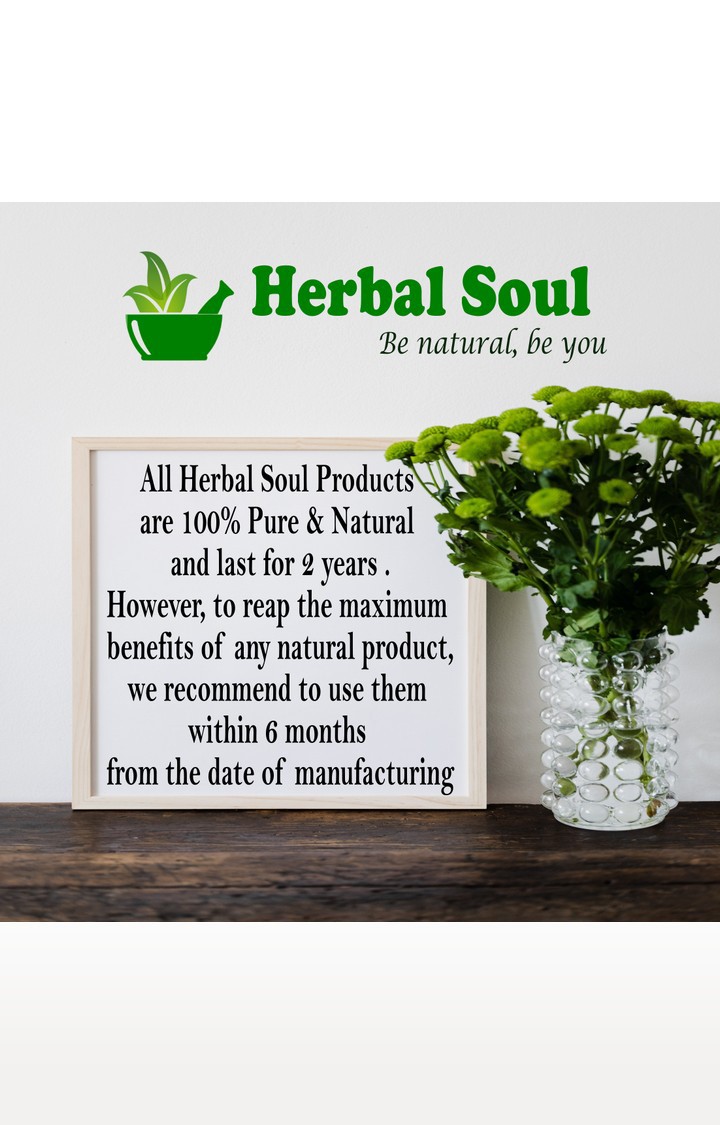 Herbal Soul
Herbal Soul Combo Of Neem Powder + Multani Powder + Rose Powder + Orange Peel Powder + Amba Haldi Powder | 500 gm
MRP:
Price inclusive of all taxes
Product Details
Marketer Name :
Herbal Soul
Name of the commodity :
Herbal powder
Return Policy
View Details
Product Description
Herbal Soul Neem powder is 100 % pure ,chemical free and natural. For ease of storage, the powders are packed in air-tight zip lock pouches. The fragrance of our herbal powders is the proof of its freshness and authenticity. Neem Powder has a lot of beauty benefits and can alleviate most of your skin and hair problems. This is the exact reason why neem is an integral part of most beauty products. Neem powder penetrates deep into your skin to clear the impurities. Neem face packs helps in treating acne, scars, pigmentation and blackheads. The Indian lilac or neem possesses anti-microbial and anti-fungal properties and is rich in Vitamin-C. Thus, neem hair mask helps to maintain scalp health, control dandruff and relieves itchiness and dryness. Neem powder promotes healthy hair & skin. This natural neem powder can be applied on all types of skin - dry, oily, sensitive, combination and normal skin. Eliminate Lice from Scalp and Hairs Permanently : Lice are often a serious problem for school-going children. To prevent or cure lice, prepare a paste of neem leaf powder, fenugreek seeds powder, and coconut oil. Apply this hair mask all over the scalp and hair properly and keep for at least an hour. Hair Fall Treatment : Neem is beneficial for reducing hair fall problems by reducing scalp infections and dandruff. Depending on the length of your hair, take adequate amount of coconut oil and castor oil and add 2 teaspoons of neem leaf powder and bhringraj powder in it. Mix well and apply the neem mixture to the scalp and hair. Massage your scalp with your fingertips in a circular motion (do not exert too much pressure). Wait for an hour to allow drying and then wash off with a mild shampoo. Regularly use of this treatment strengthens weak hair to reduce breakages and increase the growth of hair follicles. Acne and Pimple Treatment : People with oily to normal skin types are generally more prone to acne and pimple woes. To get rid of these problems prepare a pack of neem leaf and apply on your face once a week Strengthening hair quality : Neem also helps in strengthening hair quality and promotes growth of hair. Neem paste is also used as a hair conditioner. Due to its antibacterial, antifungal and anti-inflammatory properties, neem is an excellent way to curb dandruff. This makes hair follicles stronger, thus encouraging hair growth too. Multani Mitti is a 100% natural skin exfoliation powder for youthful and vibrant look. Multani mitti helps to reduces the secretion of excess oil and gives a healthy glow to the skin, this naturally occurring form of clay have several other uses for skin and hair. Multani Mitti is also one of the earliest substances to be used as a beauty mask. Multani mitti is said to make your skin radiant and appealing by getting rid of blemishes and acne scars. Herbal Soul Multani Mitti powder for skin whitening for face consists of natural vitamins, minerals. The hydrating properties of honey along with the benefits of Multani Mitti for dry skin will moisturize the skin leaving it soft. Skin lightening and brightening face pack reduces open skin pores and also improves the skin texture. Multani Mitti powder slows down the skin aging process, giving you a youthful and glowing appearance. Multani mitti powder contains Vitamin C which helps to form collagen and elastic which is the secret to beautiful skin. Deep cleansing with Multani Mitti helps to remove impurities and dead skin cells. Multani Mitti Hair conditioning : Herbal Soul Multani mitti powder is a nutrient-rich hair pack that helps maintain scalp health. Multani Mitti is a natural way of getting conditioned lustrous hair. Fuller's earth is used as a scrub, it helps reduce formation of blackheads and whiteheads. Multani Mitti is used to get rid of pigmentation, blemishes and other skin problems. Using multanimitti powder or bentonite clay in our daily skin care regimen can be extremely helpful in keeping acne, scars, pimples, signs of ageing, wrinkles, sagging skin, fine lines, dark spots. Multani Mitti Brightening Face Pack (Multani Mitti + Turmeric) : Evens out skin tone and brightens complexion. Treats tanning and pigmentation. Usage Instructions: Mix one tablespoon of multani mitti with milk. Apply and wash with water. Herbal Soul Rose Petal Powder is 100% natural, unadulterated, triple-sifted, micro-fine powder obtained by drying the fresh petals of roses. The rose petal powder are purely organic, cultivated with no use of chemicals, pesticides, and fertilizers. Rose Petal Powder does not have any added artificial colours. Herbal Soul Rose Powder is completely natural, so it hydrates the skin with 100% purity. Rose petal powder calms down any tingling sensations, redness, sloughs away dead skin cells which usually lead to fine lines and wrinkles. Rose petal powder regular usage leaves the skin and face feel relaxed, smooth and refreshed. Rose powder gives innumerable benefits to the skin, maintains the skin texture, brightens up the skin complexion, fades away blemishes, exfoliates dead skin cells and imparts a natural glow to the skin. Rose powder maintains the natural pH balance of the skin. Rose powder gently makes the skin soft and supple. Rose petal powder helps to make Skin Fresh and Toned. Dried Rose petal powder when used as a face mask, traps moisture into the skin and makes skin glossy, fresh and toned. Owing to its anti-bacterial properties, rose petal powder removes dirt and excess oil from the pores and helps you to get rid of the acne and blackheads. Rose powder contains antioxidants that help in fighting the free radicals inside the body and refreshes your skin naturally. Helps with Sunburn Being rich in Vitamin C rose petal powder can be used for soothing sunburn skin. Rose powder is rich in vitamins C, B and K which help in maintaining smooth and flawless skin tones when one applies it regularly. Herbal Soul Rose petal powder is grounded from finest rose petals that are cured to perfection. The rose powder is an essential ingredient in many face packs, hair packs, hair oils because of its cooling properties and soothing fragrance. No Side Effects : The completely organic rose petal powder renders it suitable for application on all skin types. Herbal Soul Orange peel powder is rich in vitamin C that protects skin from free radical damage, keeps skin hydrated and moisturized. Herbal Soul Orange Peel Powder is made by grinding dried Orange Peel to the powder. Our Orange peel powder acts as a natural cleanser, astringent and skin toner. Orange peel powder is for all skin types : The orange peel powder is fit for all skin types whether dry, oily, sensitive or normal. It rejuvenates the skin and maintains the youthful skin by retaining moisture. Orange peel powder is a natural herbal powder for beautiful skin. Herbal Soul orange peel powder helps in tightening the skin without disturbing the natural moisture. Orange peel powder is also useful for maintaining the natural shine of face. Orange peel powder brighten your skin tone with the anti-oxidant property of orange peel and maintains the elasticity of skin. Pure Orange peel powder gives off a rejuvenating face and skin when added to water or milk or other essential oil. Orange peel powder heals acne prone skin By including orange peel powder in our daily skin care regimen can be extremely helpful in keeping acne, scars, pimples, signs of ageing, wrinkles, sagging skin, fine lines, dark spots. Orange peel powder protects skin from free radical damage and keep it blemish free. Orange peel powder lightens your Skin Tone as loaded with citric acid, orange peel powder works as natural bleach for our skin. It can be effectively used for lightening the skin tone. Orange peel powder is a natural skin whitener and may lighten skin tone with frequent use. Orange peel helps to fight premature aging of the skin by helping to restore collagen. Regular application of this Orange peel face pack can add natural glow to skin and offers a soothing freshness to your dry skin making it soft and supple. Usage instructions: For Fairness, Take 2 teaspoon of orange peel powder, 1 teaspoon honey and 1 teaspoon turmeric, apply and wash it with water. Herbal Soul Amba haldi powders is a mix of the holy two nutritive mix of Amba and haldi. While on one hand, Amba is known for its hair growing properties. While haldi is known to nurture the scalp. Together, this grail can work wonders for your hair. Give your hair a powdery twist with Herbal Soul powder. Sourced from natural ingredients, It makes sure to benefit your hair in the most beautiful way possible. A therapeutic formulation made to make your hair feel a lot better. Powder stains, protect clothes and other surfaces. Scent so alluring, you want to reapply it with every chance you get. Moisturise and rejuvenate your hair with every use. The powder formulation makes it easy to apply and benefit the hair directly without damaging the protective barrier. Your every hair concern answered with Herbal Soul range of powders. Herbal Soul turmeric helps in removing facial hair and pimple marks, when used for a longer time. When applied before taking bath it gives a glow to their skin. It is a natural way to care for your skin which reduces blemishes and removes tan from your face. Turmeric is an anti-oxidant that assists in attacking free radicals to give a youthful looking skin, devoid of rashes and other disorders. Special indications: for oily skin: make a paste of the turmeric powder with rose water and apply, wait for a few minutes and wash away. For dry skin: make a paste with raw milk and apply, rinse well after few minutes. Stop hair growth: prepare a paste with Luke warm coconut oil and apply on face to reduce unwanted hair growth. For acne: mix with sandal wood powder to cure acne if applied regularly. Rub the mix on affected skin area and wash off after 30 minutes. Herbal Soul Amba Haldi Powder also known as Kasturi Manjhal/ Wild Turmeric is 100% pure and natural. This is a natural turmeric powder free of parabens and preservatives. This one natural ingredient can make you ditch all the facials and beauty treatments which burn a hole in your pocket. However, the utilization of Kasturi Turmeric is restricted to external purposes only. It can't be utilized in cooking as a spice like regular turmeric. Due to the anti-bacterial and anti-fungal properties of wild turmeric, it is widely used in cosmetic products. Amba Haldi face packs is known to exfoliate skin, remove dead skin cells and reduce fine lines, wrinkles, dark spots and acne thereby leaving behind a smooth and youthful look. It is suitable for all skin types. For dry skin type, use the Amba Haldi powder with milk or full cream and for oily skin use Kasturi Manjhal with rose water or honey to get shiny and dullness-free skin. It is also efficient in reducing facial hair growth. Just mix Amba haldi powder with slightly warm coconut oil and scrub your face gently with it. Practicing it frequently will offer you wonderful results." Amba Haldi Powder as hair mask : Mix 2g kasturi haldi powder with 1ml water to form a paste. Part your hair & apply the paste from root to tip. Leave it on for minimum 6 minutes. Rinse thoroughly with water & use a mild shampoo Amba Haldi Powder as face pack : First wash your face with water. Mix Pure & Natural Herbal Soul Wild Turmeric Powder with yogurt and make a thick paste. Apply on your face & neck area. Leave it for 15-20 min and rinse with water.