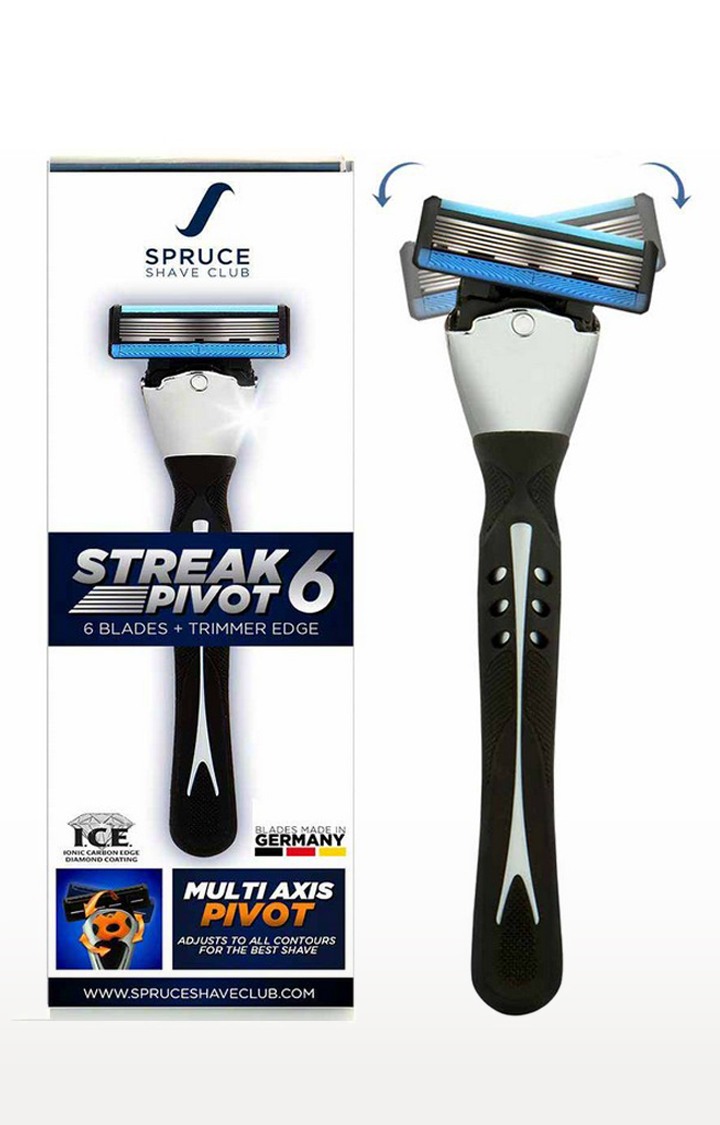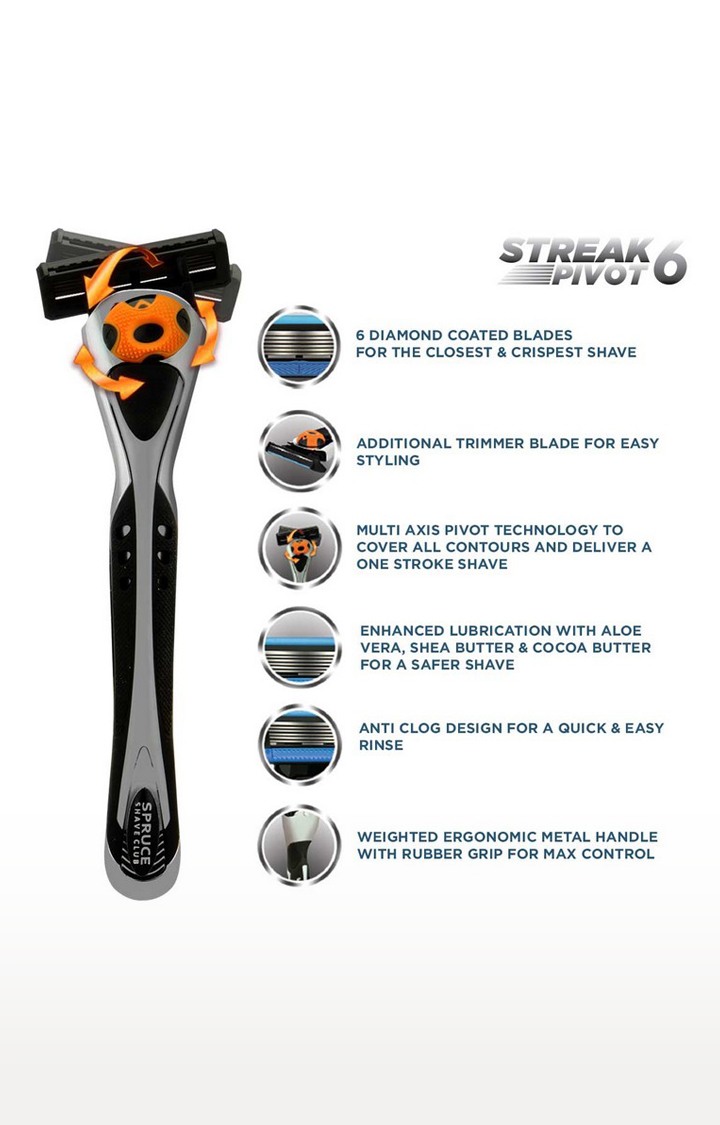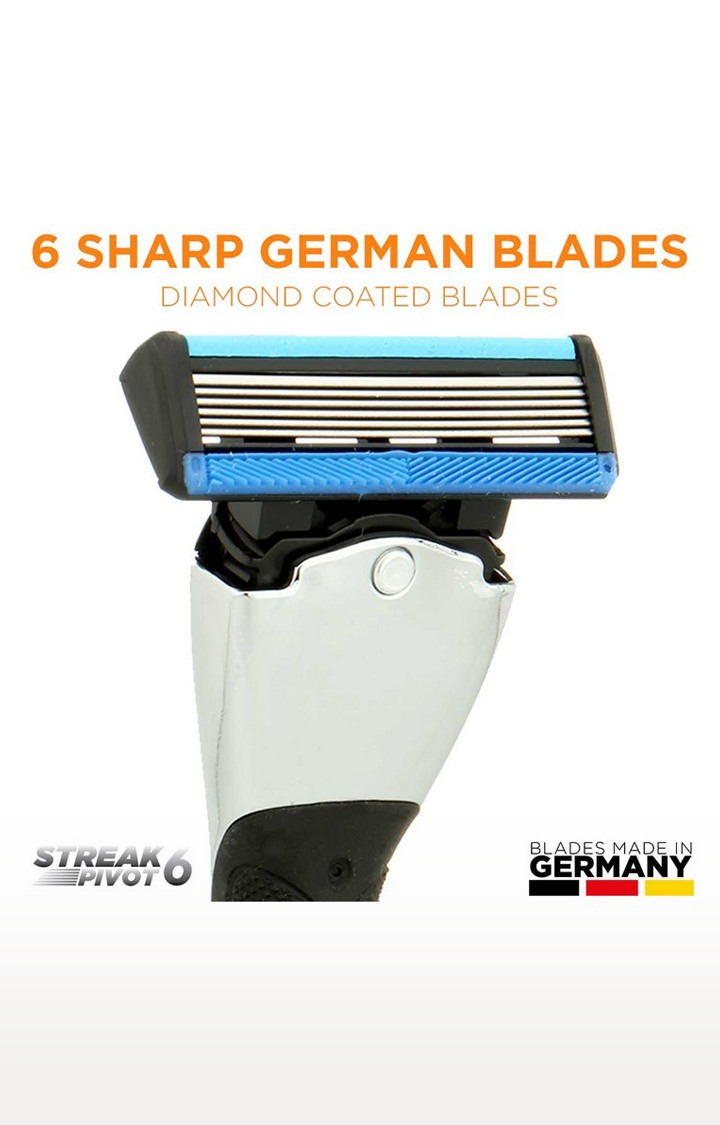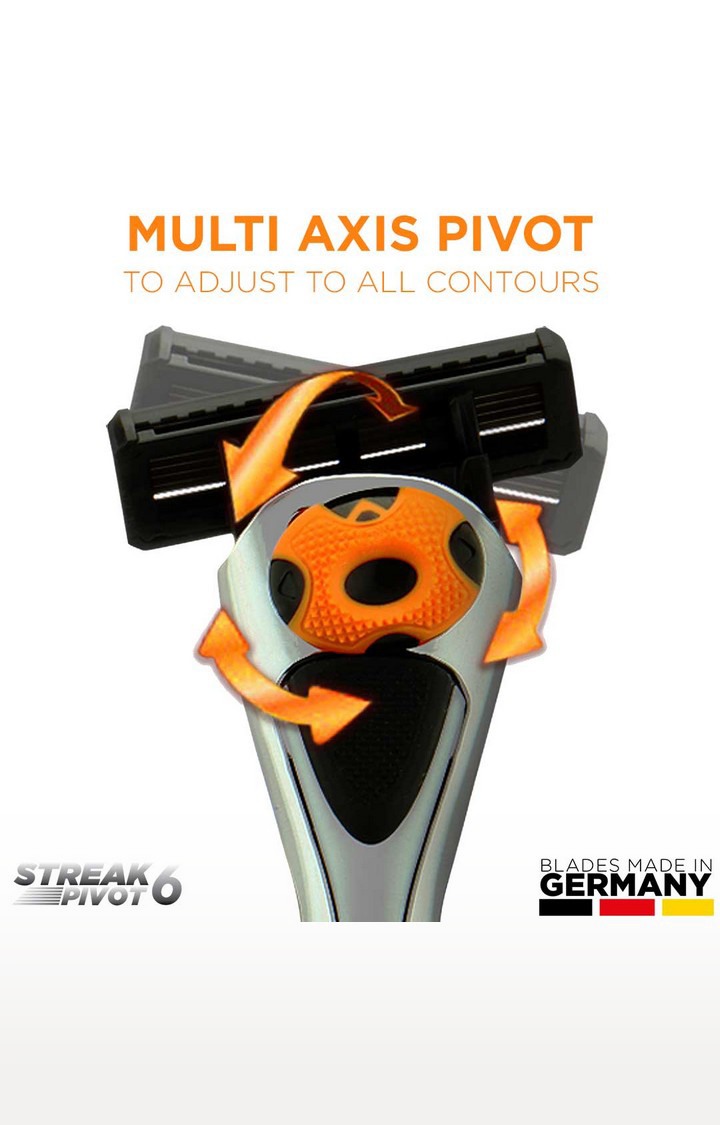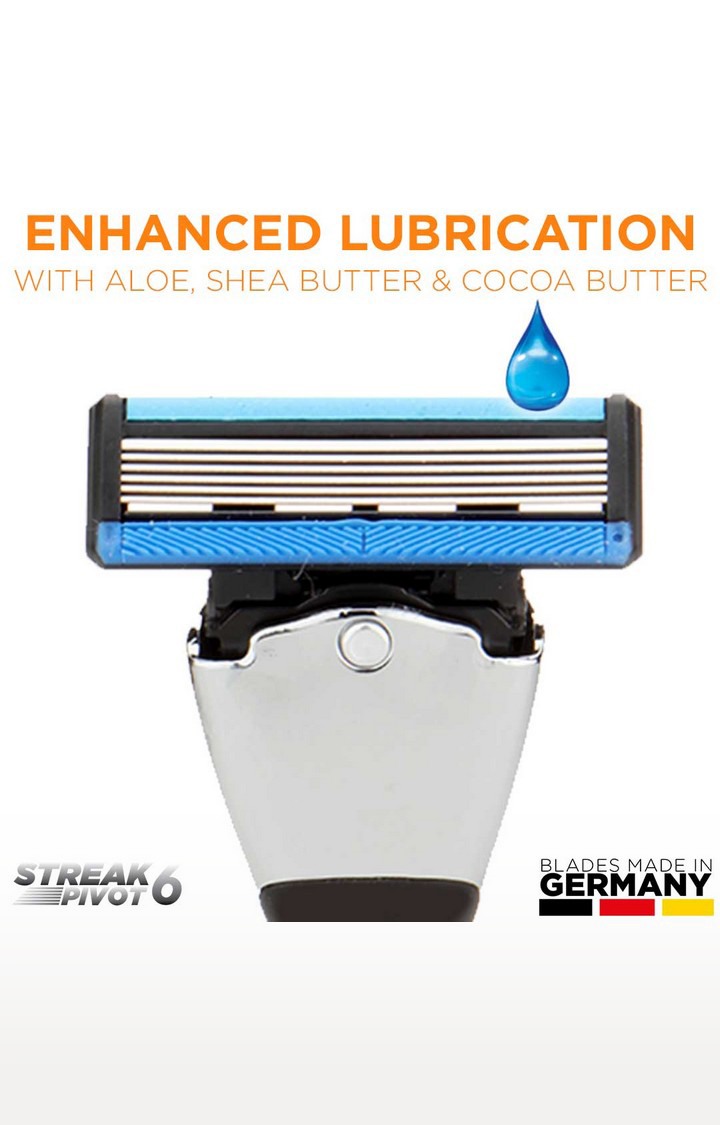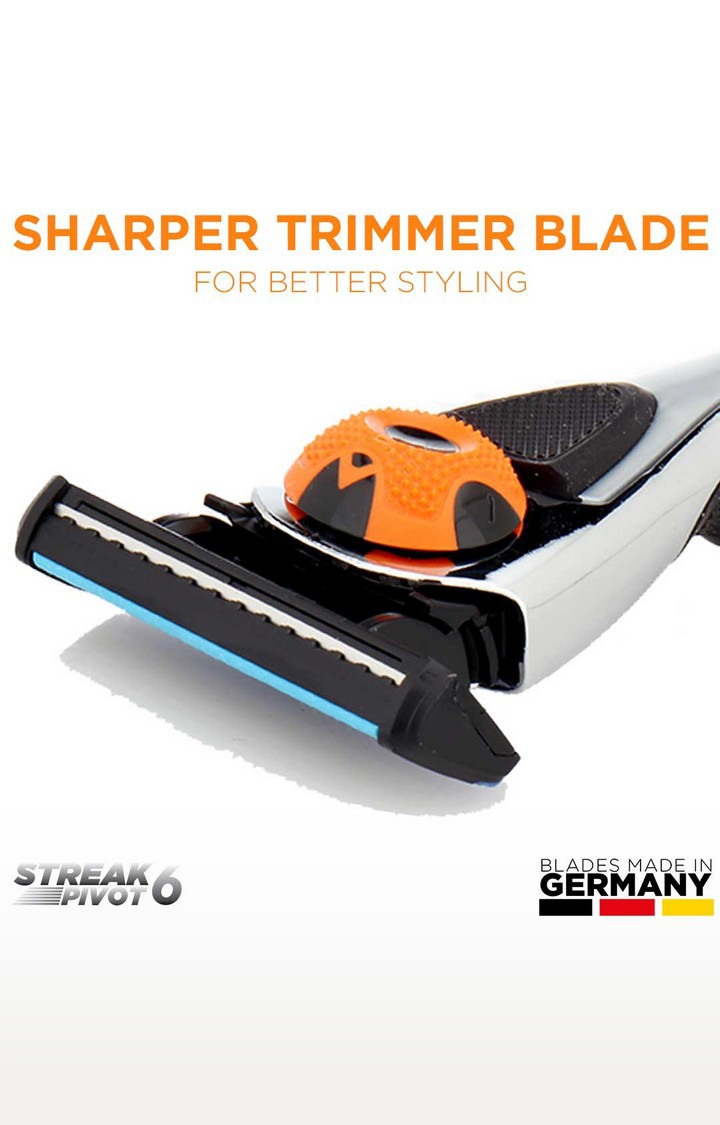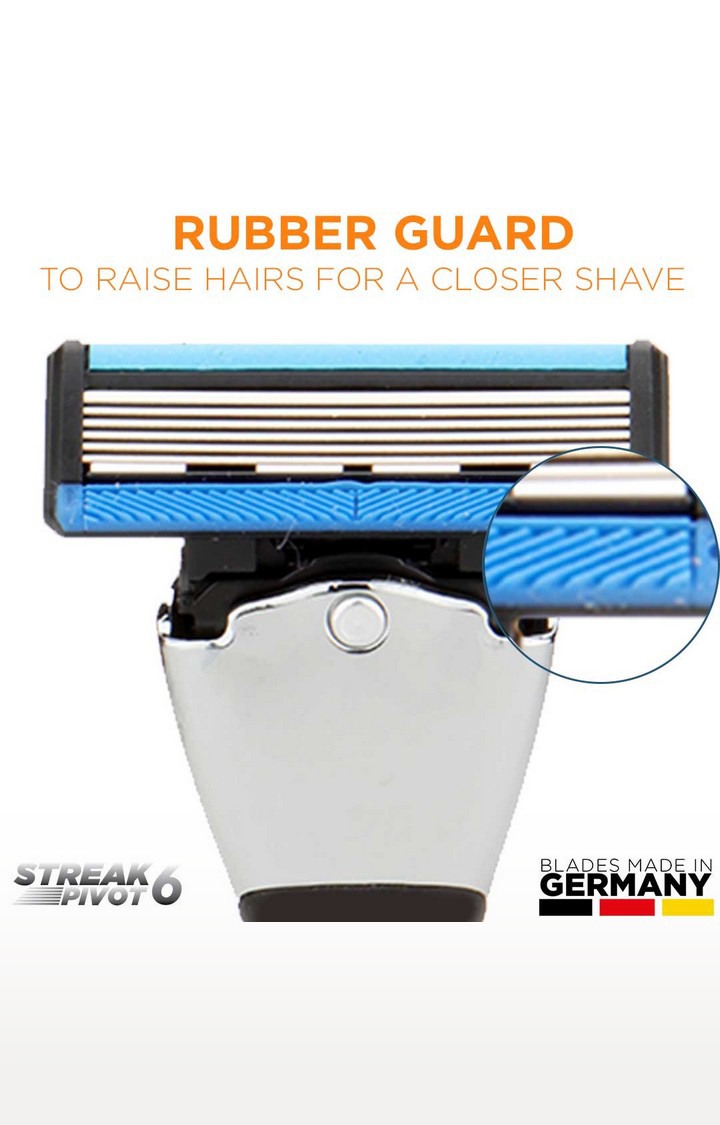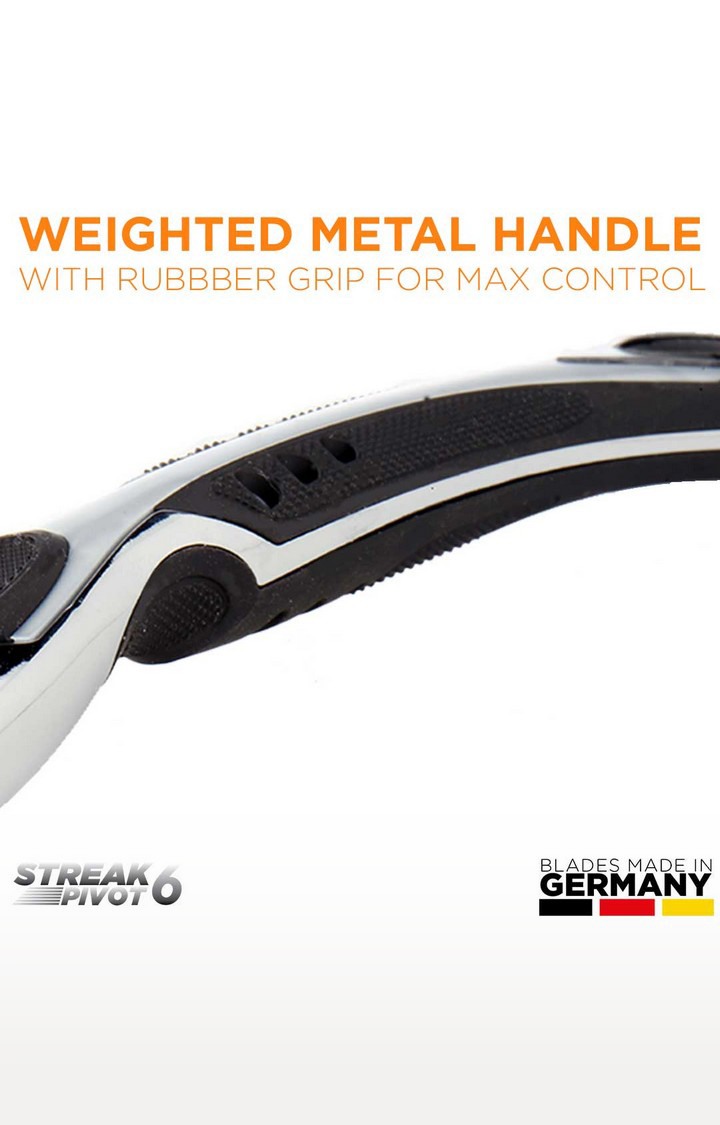 Spruce Shave Club
Spruce Shave Club Streak6 Shaving Razor | 6 Blade Razor | Diamond Coated Blades | Made in Germany
MRP:
Price inclusive of all taxes
Seller Information
Country Of Origin :
Germany
Marketer Name :
Vivo Holdings International Pvt Ltd
Marketer Address :
A-70 Golf View Apartments, DDA Flats, Saket, South Delhi-110017
Return Policy
View Details
Product Description
The Spruce Shave Club Streak6 Pivot is our newest and most advanced shaving razor. Each cartridge has 6 Blades and a trimmer blade for the closest shave yet. The blades are coated in the patented I.C.E (Ionic Carbon Edge) Diamond Coating which increases blade durability and sharpens the edge, for the most comfortable and smoothest shave. All the blades are made using state of the art machinery by experts with over 140 years of expertise in Germany. The blades have a unique L-Shaped structure to allow for easy rinsing and a more comfortable shave. But that's not all, this shaving razor is equipped with our latest M.A.P (Multi Axis Pivot) technology that enables the razor to cover all the contours of your face and get virtually every hair. Each cartridge is also equipped with an improved lubrication strip that is enriched with Aloe, Vitamin E, Shea Butter & Cocoa Butter to deliver a safer shaving experience. The handle is a weighted metal handle a rubberized grip to provide maximum control and stability while you shave. Overall this shaving razor, with all of its features has been designed to give you the ultimate shaving experience. 6 BLADE SHAVING RAZOR FOR MEN: Each shaving cartridge has 6 sharp diamond & titanium coated razor blades that have been designed to deliver the closest & smoothest shave. Each shaving cartridg also has an additional trimmer blade at the back for easy styling and hard to reach areas. Overall, this shaving razor is one of the most advanced razors in the market designed to help you elevate your shaving experience DIAMOND & TITANIUM COATED RAZOR BLADES: Each of our razor blades is equipped with our patented I.C.E (Ionic Carbon Edge) Diamond & Titanium coating that increases blade shaprness and blade life. The diamon coating increases the sharpness of the razor blades which helps deliver a closer shave, whilee the titanium coating increases the blade life so that each razor cartridge is long lasting and provides you with the maximum number of shaves. MULTI - AXIS PIVOT TECHNOLOGY: Our latest shaving razor, the Streak6 Pivot is equipped with our newest Multi-Axis Pivot technology which allows the blade to pivot not only from top to bottom but also left to right so as to increase flexibility and blade coverage. This ensures that the shaving razor can easily glide over all the contours of your skin and get virtually every hair. PRECISION GERMAN ENGINEERING: Every one of our razor blades and shaving razors is precision engineered in Germany by the finest engineers with over 140 years in the industry. Our manufacturing partners are one of the most trusted and experience shaving razor makers in the world and have developed this specific shaving razor with goal of providing the indulgent and premium shaving experience for men. A SAFE & BURN FREE SHAVE: Each ofour shaving razors is equipped with an enhanced lubrication strip made with Aloe Vera, Shea butter & Cocoa Butter to provide maximum protection to skin as well as extra glide for the razor to prevent any nicks, cuts or razor burns. The extra lubrication also ensure your skin stays moisturized and hydrated to prevent any dryness or hardening of the skin after your shave.